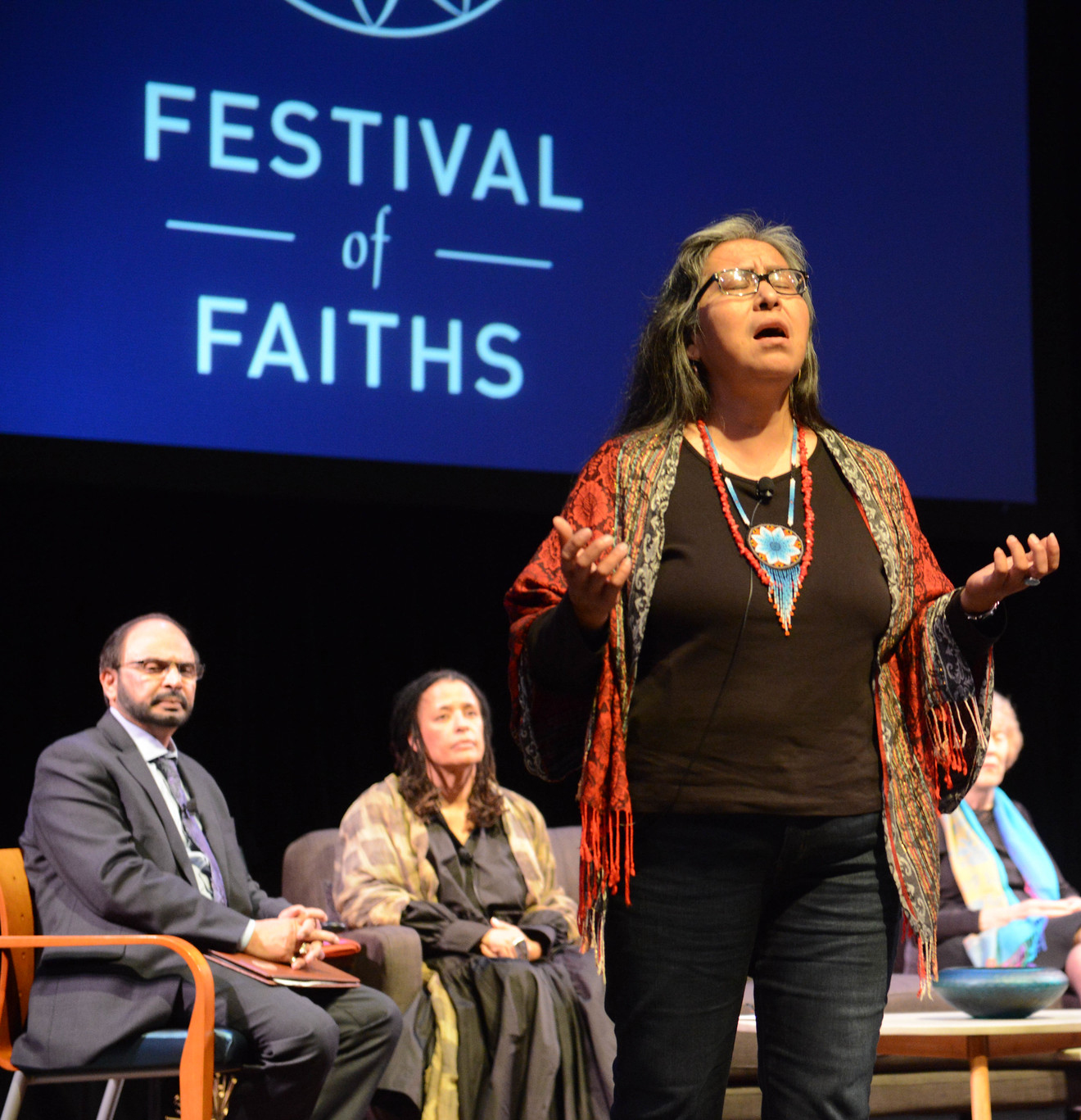 UofL to tackle faith and race as part of annual Festival of Religions
Systemic racism in America and hostile public discourse on social justice issues fuel the trauma of oppression experienced by many in our community. To foster understanding and action against racial injustice, the University of Louisville will participate in the 2021 Festival of Religions, "Sacred Change: Essential Conversations about Faith and Race." The event, presented by the Center for Interfaith Relations, will be held November 18-20 at the Kentucky Center for the Performing Arts.
UdeL Professor Michael Brandon McCormack and the UdeL Black Diamond Choir are among the local, national and international leaders of faith, thought and community who will participate in the event. Festival programs will celebrate the unique beauty, power, and strength of black faith experiences while addressing the deeply brutal results of genocide, slavery, and "profit at all costs."
McCormack, Professor in the Departments of Pan-African Studies and Comparative Humanities and Director of the Anne Braden Institute for Social Justice Research, will present "The Growing Ghosts and Contours of Black Faith: Intersectional and Interfaith Conversations." Her presentation, Nov. 19 from 1:30-3:30 p.m., will focus on emergent religious experiences and spirituality as tools of liberation and inspiration to fight the oppression of black people and the justification of systemic racism, patriarchy, sexism and homophobia.
Co-presenters include Alexis Pauline Gumbs, author of "Undrowned: Black Feminist Lessons from Marine Mammals" and co-founder of the Mobile Homecoming Trust; Sunni Patterson, internationally renowned poet, performer, priestess and initiated minister; and Starsky Wilson, president and CEO of the Children's Defense Fund and co-chair of the Ferguson Commission.
"I'm especially excited about this roundtable," McCormack said. "It will invite us to broaden our thinking about the interplay between faith and race by thinking about those who are often marginalized within or by our faith traditions. These may be those whose social status, in terms of age, gender, or sexuality, has rendered their voice silent in black church traditions. It may also include those who find their faith and/or religious identification outside of this tradition. Many of these marginalized voices have important wisdom to share about how their particular experiences of faith and race could offer spiritual resources to those involved in ongoing struggles for freedom.
Later in the evening, from 7 to 9 p.m., the University of Louisville Black Diamond Choir will be among the presenters of "Artistic Expressions of Racial Healing and Reparation." The choir, along with Keen Dance Theatre, Louisville Jazz Initiative, spoken word artist Hannah Drake and poet Sunni Patterson, will perform an evening of music, dance and spoken word that celebrates hope and activism in the face of oppression.
"It is essential that the Black Diamond Choir and UofL be present for the Festival of Faiths, as our students still experience the daily struggle of racial repair," said Brandyn Bailey, Deputy Director of the UofL Cultural Center and advisor for the Black Male. Initiative. "From the perspective of gospel music, [the choir] will offer the lineage of our kind since the era of slavery. Our message is a double-edged sword for participants and spectators, inviting hope, redemption and victory.
Now in its 25th year, the Festival of Religions is an annual event that celebrates religious diversity, promotes unity and strengthens the role of faith in society. According to Sarah Reed, executive director of the Center for Interfaith Relations, the community has long been waiting for "sacred change."
"National headlines shine a light on deep-rooted, institutionalized/systemic disparities in the human experience of Louisville, based on the color of our skin," Reed said. "Our city may not be unique in this, but as we became the epicenter of this intersection of unrest, the painful truth was inevitably clear – as was our responsibility to seek transformative change."
Details and tickets for the 2021 Festival of Religions are available online here. Discounts for student tickets are available.