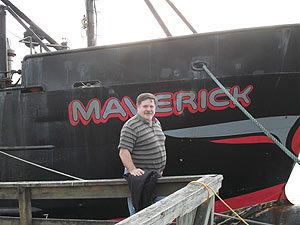 Oregon Coast Festival Honors Deadliest Capture Star
Oregon Coast Festival Honors Deadliest Capture Star
Posted
03/03/2010
Astoria's contribution to "Deadliest Catch"
(Astoria, Ore.) – The Commercial Fishermen's Festival board of directors has unanimously approved the name change of its signing contest to honor Captain Phil Harris, who recently died on February 9 from a stroke cerebral earlier in the month.
Captain Harris is best known for directing F / V Cornelia Marie in the Discovery Channel's hit television series "Deadliest Catch".
"Phil was a close and personal friend who fished alongside me in the Bering Sea for over twenty years," said festival board chair Rick Quashnick. "He had the biggest boat and I had the smallest, but I could always count on him during the roughest seas to be there if I needed him.
Captain Harris developed a strong following who loved his salty humor.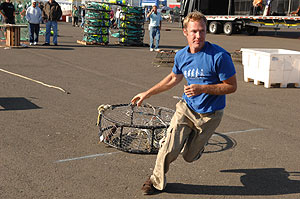 Astoria commercial fisherman Mike Giles running in the competition
"He was the kind of man who conjured up the feeling of being your instant best friend," said festival director Ron Williams.
In order to honor his memory and his contribution to the commercial fishing industry, the Festival renames its flagship event to the Captain Phil Harris Highliner competition. The competition has participants perform a grueling series of commercial fishing-related tasks that include stacking seven 100lb crab traps, winding a crab line, mending nets, rescuing a buddy using a 175lb firefighter dummy and ending with a rootbeer. The clock stops when he finishes brewing and is slapped by a bartender.
"Highliners are the best anglers in the fleet and are known for fishing the toughest conditions, working the longest hours and pushing their boats, gear and crew to the limit," says Williams.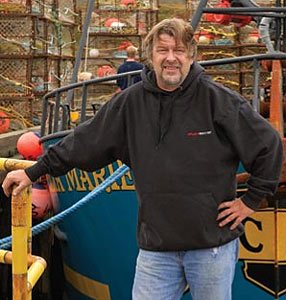 Captain Phil Harris
Last year Astoria commercial fisherman Mike Giles won both the Highliner for his class and the Highliner as a whole, earning him $ 1,000 in cash plus hundreds of dollars in prize money. Englund Marine Industrial Supply and Grundéns.
The mission of the Commercial Fishermen Festival is to provide an opportunity for fishermen and industry professionals to connect and share information that will save lives, improve productivity, increase demand for seafood and promote employment opportunities. The mission is also dedicated to educating the public about the fishing industry, including the steps fishermen have taken to ensure a renewable resource for the future. The festival will showcase American fisheries and the process of selecting, preparing and cooking seafood.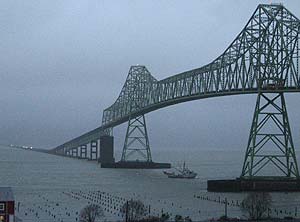 Astoria
The Commercial Fisherman's Festival is the region's largest fun and informative commercial fishing party. Here fans will meet the captains and crews of the boats featured in "Deadliest Catch" and cheer on the men who risk their lives to bring us seafood as they compete in the grueling Captain Phil Harris Highliner competition for the title. Highliner of the Year. Watch a US Coast Guard search-and-rescue helicopter demonstration, and see historic and modern fishing gear worth millions of dollars. The festivities include demonstrations, industry sales, food, music, crafts, a culinary scene with celebrity chefs, a beer garden and a children's area for a weekend. fun and action packed. The 2010 Commercial Fisherman's Festival will take place September 18-19 at Astoria Harbor, Pier 1.
"We already have early engagements from celebrities such as author Spike Walker, celebrity Galloping Gourmet chef Graham Kerr and F / V Time Bandit's Deadliest Catch stars Andy and Johnathan Hillstrand," Williams said. "We also have a strong interest from the wizard. The crew who are eager to return to Astoria." Williams also spoke with Captain Sig Hanson and his brother Edgar who have indicated that they would like to attend. fishermen and loggers "AxeMen" of JM Browning Logging Company.
Read more about lodging on the Oregon Coast ……
LATEST STORIES ON THE OREGON COAST
CONTACT / ANNOUNCE ON BEACH CONNECTION