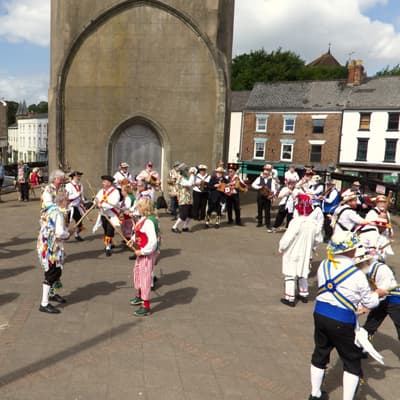 Morris dancers return for annual festival
FOLK dancers from across the country flocked to the Forest and Wye Valley this month as the annual Dean Morris Forest Festival returned following the pandemic.
Morris teams from as far away as Northampton and Merseyside came to the forest to perform for people across the district, in what was the 49th such event.
The groups met with the Forest of Dean band at the Clock Tower in Coleford to kick off the festival with a 'mass dance' in front of a crowd of interested locals and Morris enthusiasts.
The dancers then split into two groups to perform at venues across the district over the weekend.
The event should have been the 51st annual festival, but was actually the 49th, as it was canceled in 2020 and 2021 due to the pandemic.
Six groups of Morris men, women and children took part in the festival, including the Mersey Morris Men and Cardiff's all-female band 'Clocs Canton'.
Other groups included representatives from Leicester, Southport and Northampton, as well as the Wye Forest and Valley.
Forest of Dean Camera Club member Alan Waterman, who photographed the event for the Camera Club and for the Coleford Visitor Information Centre, followed a group to the Rising Sun in Mosley Green after Coleford's dance.
Alan said: "I preferred the Mosley Green location in Coleford Town, while there was a good turnout on a sunny morning in Coleford, the pub location seemed more in line with Morris Men for some reason ."
Sunday saw the bands perform at the Heritage Center in the morning and Tintern in the afternoon.
The Forest of Dean Morris band is made up of men and women of all ages.
They will be holding workshops at the next Coleford Music Festival in July for those who want to try.