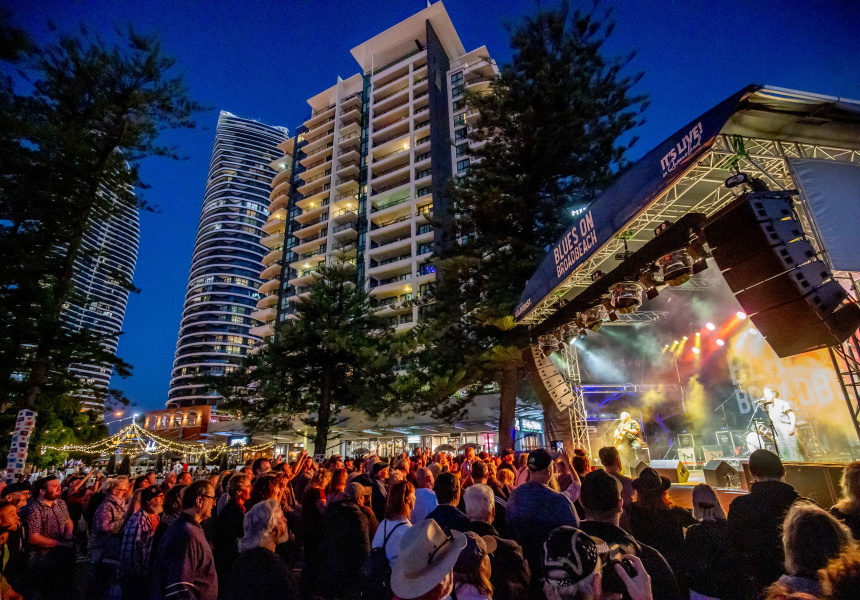 Blues on the Broadbeach Music Festival
The annual institution that brings slide guitar to the surf.
You suppose visitors to Broadbeach rarely think of the blues.
The Gold Coast suburb is more often busy luring surfers, shoppers and holidaymakers to its beach-side wonderland. But Broadbeach will get an extra boost this month thanks to an influx of avid blues fans.
The Blues on Broadbeach Music Festival is an annual event that welcomes international and Australian talent to a series of outdoor stages, parks and venues throughout the suburb. You can expect to hear a range of blues-inspired music, as you stroll through a neighborhood full of restaurants, cafes and bars. Taking place over four days this year, the festival will be presented by critically acclaimed jazz trumpeter James Morrison and his performance Motown Experience. He appears alongside American names in Robben Ford – who has collaborated with Miles Davis, George Harrison and Joni Mitchell – and Mississippi bluesman RL Boyce, who will appear with Dom Turner, best known as the founder of the Backsliders.
Eight-piece Japanese funk orchestra Osaka Monaurail will bring the party, while Emma Donovan and The Putbacks, Mia Dyson, Karise Eden, Jimi Hocking, Jason Delphin, 8 Ball Aitken and more will lead a local showcase. This year will also see the introduction of an all-new park scene in Federation Park, which will host a program of gritty, offbeat acts.
See the full program and more details.
This article is produced by Broadsheet in partnership with Tourism and Events Queensland.